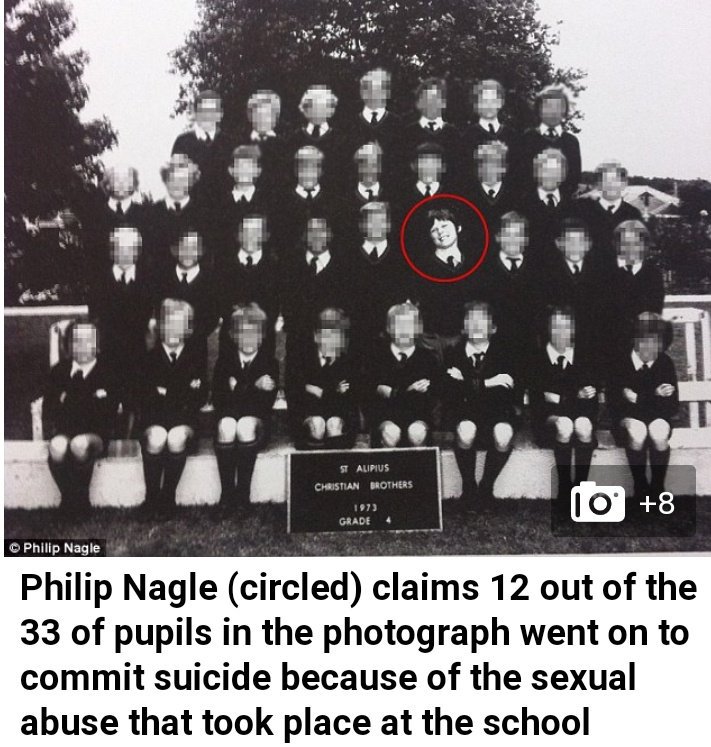 "The photo of the 33 St Alipius pupils from 1973 sticks with me, 12 of them killed themselves due to abuse at the school. The Episcopal vicar for education in diocese of Ballarat from 1973-1984 was George Pell."
This was where Gerard Ridsdale and others plied their trade. This was what George Pell at the Royal Commission called "A sad story that didn't interest me very much".
More info on the spate of suicides of men abused in the Ballarat diocese here. http://clergygonewild.com/sex-abuse/34-child-abuse/1788-australia-churchs-suicide-victims
https://www.abc.net.au/news/2015-05-18/royal-commission-into-child-abuse-to-start-hearings-in-ballarat/6477132
For me this is the greater crime of people like Pell - that they saw the "good name" and "integrity" of the church as more important than anything else. They crushed those that opposed them and they crushed victims through legal means. They destroyed lives through abuse and then through the legal system.
This is a really good article by the Melbourne writer Christos Tsiolkas. He makes the valid point that the New Testament mentions sex only a handful of times, yet the Catholic Church is based around concepts of sin, shame and guilt, mostly around sex. This is why I consider the Church an pathological organisation. Whether you believe in Jesus or God or not, the foundation of this church is no longer about love and charity.
https://newsvire.com/my-anger-with-george-pell-has-been-replaced-by-immense-sadness-christos-tsiolkas/